Ny J5035 500x210cm 3500kg gross weight Beaver tail anhænger autotransport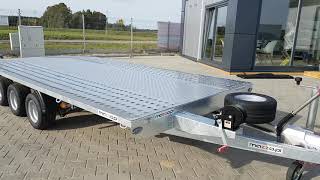 1/18
Sted
Polen
Gietrzwałd
Oprettelsesdato
mere end en måned
Karosseri
Karosserimål
længde - 5 m, bredde - 2.1 m
Chassis
galvaniseret stål
Har du brug for levering?
Beregn leveringsomkostninger
Directly from the wholesaler
NEW PRODUCTS - Invoice including VAT, intra-community delivery of goods
or export and 12/24 months warranty
Business customers can buy products without VAT
All of our trailers conforms in all respects to the EC CERTIFICATE OF CONFORMITY (COC) and can be permanently registered in Member States having left/right hand traffic and using metric/imperial units for the speedometer.
Contact us phone & Viber & WhatsApp
English speaker
vis kontakter
German speaker
vis kontakter
or
vis kontakter
A 500x210cm beaver tail transporter 3500kg gross weight, perfect for lower vehicles. Standard equipment includes two loading ramps, manual winch and support wheel. Optionally, the trailer could be filling out with waterproof plywood or aluminium sheet.
STANDARD FEATURES
• Loading area 500x210
• 3 braked axles AL-KO or KNOTT 3x1350kg
• GVW 3500kg
• Wheels 195/55 R10C or 195/50 R13C
• AL-KO or KNOTT coupling
• Manual winch
• Robust and fully galvanized chassis with V-drawbar
• Corrosion protection: hot dip galvanized construction
• Load-bearing frames: structural steel with increased strength, closed profile, welded and hot-dip galvanized construction
• Transport surface: perforated and hot-dip galvanized sheet metal, non-slip, made of steel, with oval LOHR system holes
• Trailer filled out with aluminum sheet in the middle
• Support wheel
• Ramps of steel under the loading area 2m
• 13-pin plug • Spare tire
• Spare tire holder
Additionally:
• Schock absorbers
• LED lights
• Straps
• Tool/ Straps box - 80€
• AKS driving stabilizer - 360€
Our company provides you with various trailers and car transporters in other sizes and with other permissible total masses:
400 x 210cm - GWV 2,7t, 3t or 3.5t - 2 axles
450 x 210cm - GVW 2,7t, 3t or 3,5t - 2 axles
550 x 210cm - GVW 2,7t, 3t or 3,5t - 2 axles or 3 axles
600 x 210 cm - GVW 2,7t, 3t or 3,5t - 2 axles or 3 axles
This model is also available in different widths: 200cm, 220cm, 230cm, etc.
You can make this trailer in many configuration!
Contact us phone & Viber & WhatsApp
English speaker
vis kontakter
German speaker
vis kontakter
or
vis kontakter
Working hours:
Monday - Friday 8.00 - 17.00
Saturday 9.00 - 14.00
Terms of delivery:
• Direct delivery to your address
• Depending on the model and country we would like to offer you the delivery price
• The lead time is between 2 and 8 weeks, depending on the availability of the selected model
• While the order is processing - we will inform you about the progress.
• We will contact you 2-3 days before delivery day
• For personal pick-up, we can arrange temporary registration plates
• All documents (invoice, EU Certificate of conformity (COC) are coming with the trailer
• Guarantee 12/24 months
Contact us phone & Viber & WhatsApp
English speaker
vis kontakter
German speaker
vis kontakter
Mazzo Maciej Kubiński is a company with 10 years history, based of our work started
on 2007. The company Mazzo is located at Olsztyńska 46 street in
Gietrzwałd. We have the biggest square with the largest selection of trailers in our
country.
Mazzo is the dealer leader in selling new trailers.
Our company selling trailers from the biggest and from the best trailers manufactures
in Poland.
We are also one of the largest sellers in Europe.
Our trailers are sold all over in Europe.
Our company boast over 10 years of experienced in selling, modernizing and servicing
all types of trailers. We cooperate with leading European trailer producers and have in
our offer more than 500 models.
Our trailers have an international Certificate of conformity and all certificates required for
registration in the EU countries. Our team speaks English and German and is looking
forward to hearing from you. For and additional charge we can deliver our trailers
throughout Europe directly to your door.
If you are interested in our products or would you like cooperate with us – please
contact us by phone
vis kontakter
or by e-mail
vis kontakter
.
In our offer there is a large selection of different types of trailers:
• Usual car trailers with steel structures and canopy
• Boat trailers
• Motorcycle and quad trailers
• Car transporters
• Side curtain transporters
• Mini Digger, Plant, Excavator Trailers
• Tilt trailers with hydraulic
• Tipping trailers
• General purpose trailers
• Platforms
• Box (VAN) trailers
• Special trailers
• Horsebox trailers
Autotransporter 500x210cm 3,5t LIEFERUNG NEU!
Anhängertyp: J5035 BL - hinten schräg
E-Mail:
vis kontakter
Handy:
vis kontakter
– Deutsch, Polski
Handy:
vis kontakter
– Deutsch, Polski
Handy:
vis kontakter
– English, Polski
LIEFERUNG innerhalb Deutschlands - nur 150-300 €!
Wir liefern unsere Produkte nach ganz Europa!
Direkt vom Großhändler
NEUWARE - inkl. Rechnung mit ausgewiesener MwSt. und 12 / 24 Monate Garantie
Geschäftskunden können Produkte ohne MwSt. bzw. VAT kaufen
Alle unsere Anhänger haben die entsprechende COC-Homologation, die eine Zulassung innerhalb EU-Ländern ermöglicht
Technische Daten:
Innere Ladefläche: 500 x 210cm
Nutzlast: ca. 2680kg
zul. Gesamtgewicht: bis 3500kg
Leergewicht: ca. 820kg
3 gebremste Achsen AL-KO oder KNOTT
Auflaufeinrichtung 3500kg
Reifen R10C
AL-KO oder KNOTT Kupplung
Manuelle Seilwinde
Robustes voll verzinktes Fahrgestell mit V-Deichsel
Korrosionsschutz: feuerverzinkte Konstruktion
Tragende Rahmen: Baustahl mit erhöhter Festigkeit, geschweißte und feuerverzinkte Konstruktion
Transportfläche: perforierte und feuerverzinkte Blech, rutschfest, aus Stahl, mit ovalen LOHR-System-Löchern
Starkes Stützrad
Rampen aus Stahl unter dem Ladeboden 2m
13-poliger Stecker 12V
inkl. Alu-Blech in der Mitte
inkl. Ersatzrad
Zusatzausstattung (als Option)
6 x Stoßdämpfer
LED-Lampen
Radstopper
4 Dreipunkt Spanngurte 3m 5t
AL-KO Seilwinde 900C mit Stahlseil
Alu-Rampen 2m (Änderung)
AKS Sicherheitskupplung 3,5t (Änderung)
Im Angebot haben wir auch andere Autotransprter:
400 x 200cm - zGM 3t oder 3,5t - 2 Achsen!
450 x 200cm - zGM 2,7t, 3t oder 3,5t - 2 Achsen!
500 x 200cm - zGM 2,7t, 3t oder 3,5t - 2 Achsen oder 3 Achsen!
600 x 200 cm - zGM 2,7t, 3t oder 3,5t - 2 Achsen oder 3 Achsen!
Auf Bestellung gibt es dieses Modell auch in verschiedenen Breiten: 210cm, 220cm, 230cm usw.
TEMPO 100
Möchten Sie Ihren Anhänger für 100km/h zulassen? Kein Problem!
Zusätzlich können wir Ihr Fahrzeug auf eine technische Überprüfung vorbereiten.
Notwendige Dokumente von dem Produzenten für TÜV - fragen Sie uns nach den Details!
Lieferung:
Wir liefern unsere Anhänger direkt an die von Ihnen vorgegebene Adresse bis zur Haustür
Je nach Modell belaufen sich die Lieferkosten auf 150-300 €.
Die Lieferzeit beträgt zwischen 2 und 8 Wochen nach Bestellung, abhängig von der Verfügbarkeit des ausgewählten Modells.
Wir werden Sie laufend über den Fortschritt Ihrer Bestellung informieren und 2-3 Tage vor der Lieferung werden wir das Lieferdatum mit Ihnen abstimmen. Ihre Zufriedenheit ist für uns sehr wichtig.
Alle Unterlagen, die Sie für die Zulassung benötigen (europäische COC-Homologation, die Kaufrechnung, zusätzliche Spezifikationen und Bestätigungen), werden Sie zusammen mit dem gelieferten Anhänger erhalten
Wir liefern unsere Produkte nach ganz Europa. Keine Insel-Lieferung möglich.
Für die Kunden, die einen Anhänger selbst abholen möchten, können wir Exportkennzeichen mit der Versicherung vorbereiten.
Angebot von:
MAZZO Maciej Kubiński
Olsztyńska 46
11-036 Gietrzwałd
Verkaufstelle MAZZO Modrzyca:
Nowosolska 20
67-106 Modrzyca
Handy:
vis kontakter
– Deutsch, Polski
Handy:
vis kontakter
– Deutsch, Polski
Handy:
vis kontakter
– English, Polski
Wir sind gerne für Sie auch per WhatsApp & Viber erreichbar!
vis kontakter
vis kontakter
E-Mail:
vis kontakter
Öffnungszeiten:
Montag - Freitag 8.00 - 17.00 Uhr
Samstag 9.00 - 14.00 Uhr
Außerhalb der Öffnungszeitenkönnen Sie Ihre Anfragen auch jederzeit per E-Mail an:
vis kontakter
stellen. Unser Team spricht Deutsch, Englisch und Polnisch.
Unsere Firma hat über 20 Jahre Erfahrung im Vertrieb, Umbau und Service von Anhängern aller Typen. Dank unserer Erfahrung bieten wir Ihnen eine professionelle und hochqualifizierte Beratung an.
In unserem Angebot befindet sich eine große Auswahl unterschiedlicher Typen von Anhängern:
PKW-Anhänger
Fahrzeugtransporter
Maschinentransporter
Motorradanhänger
Bootsanhänger
Hochlader
Kipper
Kofferanhänger
EQUIPAMIENTO DE SERIE:
-3 ejes con frenos 3x1350kg AL-KO lub KNOTT
-Dispositivo de rebasado 3.500kg
-Construcción galvanizada en caliente
-Ruedas R10C
-Rueda de apoyo
-Rueda de repuesto
-Soporte para rueda de repuesto
-Cabrestante
-Paneles centrales de aluminio
-Rampas de acero bajo la zona de carga de 2m
-Calzos para las ruedas
ENTREGA: Hacemos envíos de remolques desde nuestra sede central en Polonia a la dirección que usted desee (su domicilio, su lugar de trabajo...etc). dependiendo del modelo, los gastos de envío oscilan entre 220-490€. El plazo de entrega es de entre 4-8 semanas después de realizar el pedido.
Antes de la entrega, recibirá al menos 5 fotos de su remolque, y 2-3 días previos a la entrega nos pondremos en contacto con usted para concretar la hora y el lugar de la entrega. Junto con el remolque, recibirá todos los documentos necesarios para su registro: Homologación, COC europeo, factura de compra y especificaciones adicionales.
En caso de que quiera recoger su remolque personalmente, le podemos ofrecer matrículas provisionales (con seguro incluído) durante 1 mes válido para todos los países de la UE, de modo que pueda circular con el remolque en su camino de regreso.
A los clientes que adquieran nuestros productos a través de empresa, ofrecemos la posibilidad de adquirir nuestros productos sin IVA.
Si tiene cualquier duda o quiere cooperar con nosotros, puede ponerse en contacto con nosotros:
-Teléfono:
vis kontakter
-E-mail:
vis kontakter
-Whatsapp:
vis kontakter
Vigtigt
Dette tilbud er kun til information. Indhent nærmere oplysninger hos sælgeren.
Sikkerhedstips
Sælgerens kontaktoplysninger
Siedziba główna Gietrzwałd - sales@mazzo.pl
Polen, Ermlandsk-Masuriske voivodskab, 11-036, Gietrzwałd, ul. Olsztyńska 46
Lokal tid hos forhandleren: 14:48 (CET)
Sælger du maskiner eller køretøjer?
Det kan du gøre hos os!